Overview
Consistent with our approach to implementing the strategic plan, in academic year (AY) 2021-22
• Planning teams initiated efforts to identify the institutional-level work and campus investments needed to achieve strategic plan objectives
• Divisions initiated alignment of their work to the strategic plan, providing a basis for resource requests in the budget call process
• Resources were allocated in support of strategic plan priorities through the budget call process
Below, additional details are provided about the
• The work the planning teams completed
• Our approach to Goal 3: Cultivate a Culture of Dignity and Respect for All
• And next steps
---
Planning Teams
As outlined in the figure below, in AY 2021-2022, five planning teams were established with each planning team responsible for one or more strategic planning objectives.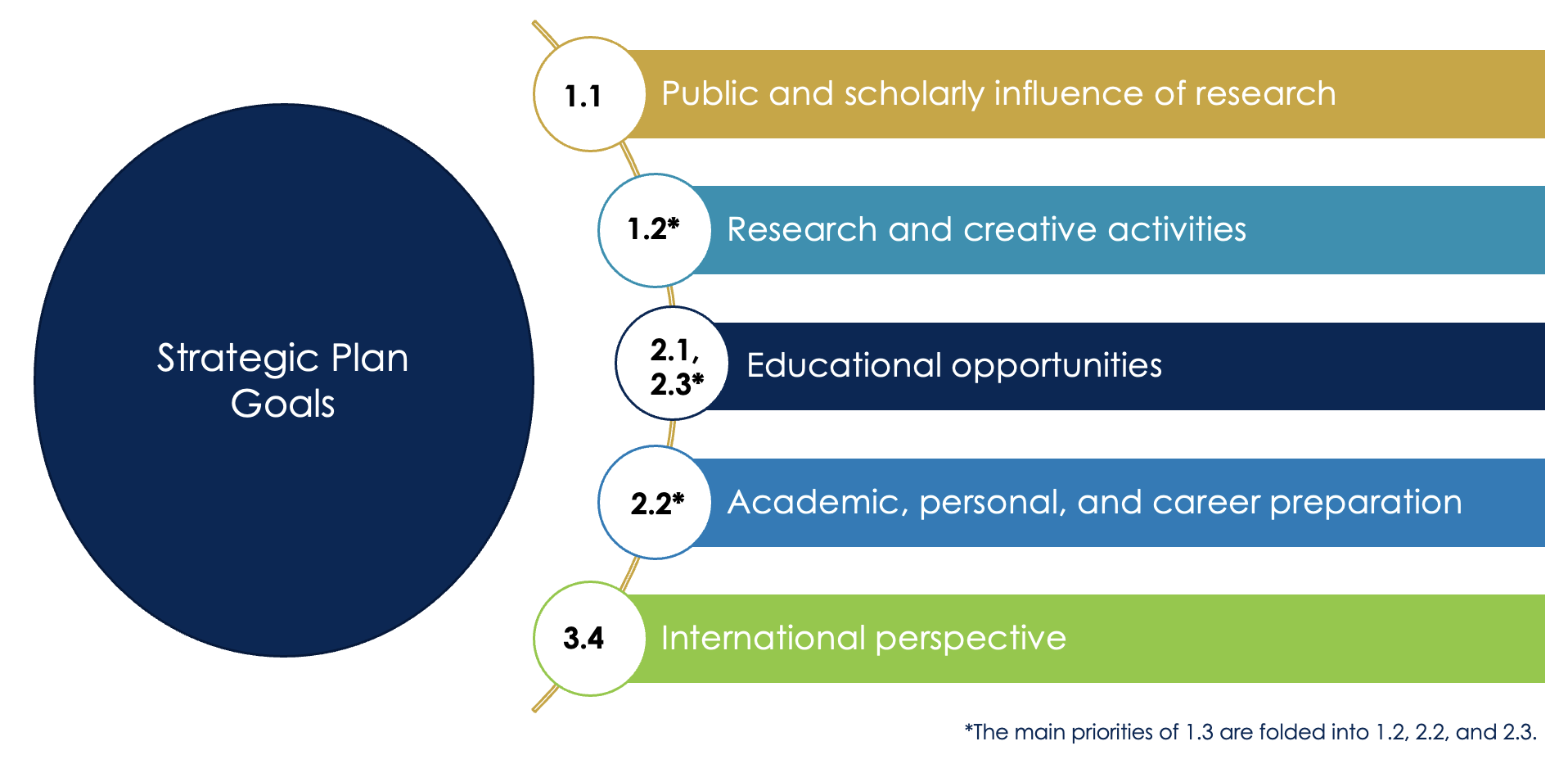 Planning teams began meeting in late December or early January, depending upon the team. In mid-April, planning teams concluded their work for the year with a presentation to the EVC/Provost and Interim CFO to inform the budget call process.
A summary of each planning team's work is hyperlinked below. An outline of what planning teams were asked to do is available here. In brief, planning teams were asked to:
1. Identify what success will look like when the objective(s) is (are) achieved in 2031.
2. Conduct a gap analysis to identify the magnitude and type of institutional change needed to achieve the objective.
3. Identify the bodies of work needed to advance the objective(s).
4. Preliminarily identify the resources necessary to initiate the work.
|       Objective |                                                                   Planning Team |       Findings |
| --- | --- | --- |
| 1.1 | Public and scholarly influence of research | Box link |
| 1.2* | Research and creative activities | Box link |
| 2.1,2.3* | Educational opportunities | Box ink |
| 2.2* | Academic, personal, and career preparation | Box link |
| 3.4 | International perspectives | Box link |
*The main priorities of objective 1.3 are folded into 1.2, 2.2, and 2.3.
AY 2021-22 planning team memberships are here.
---
Our Approach to Goal 3
As you may note, there is currently no planning team tasked with stewarding the campus' achievement of strategic plan objectives 3.1 to 3.3. 
Slides 14 through 16 of this presentation outline the campus' approach in light of our current infrastructure to support our goal to Cultivate a Culture of Dignity and Respect for All.
In brief, a two-process approach is described:
Each planning team includes at least one representative to support an explicit focus on (EDI) issues.

Concurrently, the campus is engaged in a process to develop the institutional infrastructure necessary to realize these objectives. This includes:

establishing, in 2022, a Division of Equity, Justice, and Inclusive Excellence to lead and support equity and justice work,

developing an inclusive excellence framework and data to ground and inform campus efforts, and

engaging in an Equity and Justice Strategic Planning Process to generate the partnerships and products to support achievement of Goals 1 and 2 as guided by the objectives delineated in Goal 3.
---
Next Steps
Planning teams will continue their work in AY 2022-2023. Given the abbreviated planning cycle in this first year, planning teams will be consulting with campus stakeholders about their proposed actions. That input will used to continue to develop and refine the plans. As in AY 2021-22, planning teams will advise on the budget allocation process.